---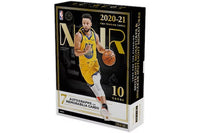 Configuration: 1 pack per box. 10 cards per pack.

PRODUCT HIGHLIGHTS
- 2020-21 Noir will feature several unique autograph sets that are all signed on-card! Look for signatures of top superstars and rookies of the NBA all throughout Noir!
- Collectors should be on the look for the highly anticipated Sneaker Spotlight and Spotlight Signatures sets.
- Rookie Patch autographs can be found in multiple versions such as Black & White and Color and will include prime swatches! Look for the Tags parallel featuring part of the Laundry Tag!
- Collect the popular Metal Frame Inserts of your favorite players from across the NBA!
- Find LaMelo Ball, Anthony Edwards, and James Wiseman who highlight the 2020-21 rookie class!
BOX BREAK
- Seven Autographs or Memorabilia Cards