---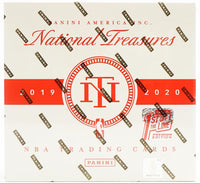 Configuration: 1 pack per box. 10 cards per pack.

PRODUCT HIGHLIGHTS
- FOTL Exclusive: Find 1 Stars and Stripes RPA (#'d to 30) or 1 Stars and Stripes Blue RPA (#'d to 3) in Every Box!
- National Treasures is back with the most sought-after Rookie Patch Autograph cards of the year! Find RPA's of Zion Williamson, Ja Morant, RJ Barrett, Rui Hachimura, and more!
- Look for the incredible Logoman Autograph and Treasured Tags Autograph cards! Find one-of-a-kind items of Charles Barkley, Stephen Curry, Shaquille O'Neal, and more!
- Collect the incredibly unique Personalized autographs of superstar talents!
- Chase history in the NBA Finals Nameplate set, which features full-letter Nameplate patches! Look for pieces from the Toronto Raptors first ever NBA Finals victory!

BOX BREAK
- 8 Autographs Or Memorabilia
- 1 Base Or Parallel
- 1 Printing Plate